Ethically sourced from the Wayuu tribe in La Guajira, Colombia.
Our ethnic handcrafts are considered as a material expression of culture within indigenous communities. Behind every piece there's a story told by our Wayuu women artisans in La Guajira, Colombia. It takes one Wayuu artisan about 160 hours to create a unique mochila bag. Learn how you can make an impact!
LEARN OUR STORY!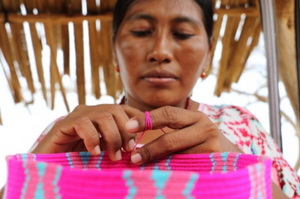 What We're Talking About...
---
Yoga has been practiced for thousands of years and has become increasingly popular in recent times. It is a great way to improve flexibility, reduce stress, and promote overall health...
Join our #ArawayuuTribe Community!
Let's shop with a purpose! 10% of our profits go back to support our women artisans of the Wayuu Tribe isolated by quarantine-related hunger.